Lenoir City renovates War Memorial Building | News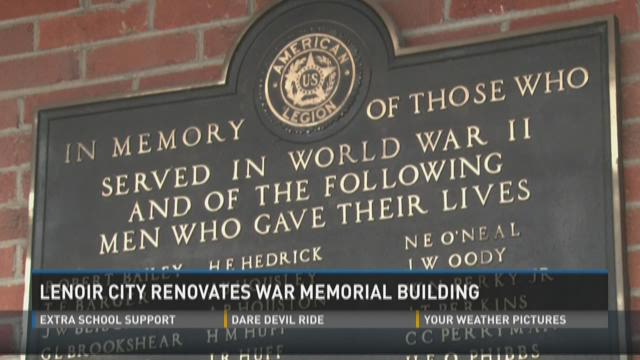 (WBIR- Lenoir City) Lenoir City is renovating the War Memorial Building, a centerpiece of the city's downtown and a tribute to local veterans.
Amber Scott, assistant city administrator, said the city will open bids for the roof repair on Feb. 19.
"It very much needs a face lift," she said. "It's never really had very many renovations."
The building was opened in 1951 in memory and in honor of the veterans of Loudon County and Lenoir City. It was placed on the National Historic Register of Historic Places in 2011. Scott said it has also been used as a community center, a gym for high school P.E. classes, and a place to hold graduations over the years.
Mayor of Lenoir City, Tony Aikens, said the city has already started cleaning up the outside of the building. The next project on the list is the roof followed by renovating the heating and air conditioning, lighting, and windows.
"The veterans still meet here on a regular basis so we're hoping that we will give them something that they will be proud of," Aikens said, "and they can come meet and fellowship."
The whole project should cost about $1.8 million, Aikens said. The city has received some private donations and a $250,000 grant from the Tennessee Department of Environment and Conservation, with the goal to make the building more energy efficient and lower utility costs.
Aikens said he hopes the renovation of the War Memorial Building, along with the city's streetscapes project will help revitalize the downtown area.
"We believe that it will draw people into Lenoir City, something that we desperately need in a small town," he said. "And so we believe it will be a tremendous help."
The building has been a part of downtown Lenoir City for nearly 64 years, and Scott said renovating it will ensure that a part of the city's history is preserved for years to come.
"It brings back the memories of all of our history of downtown, and I think that's what downtowns are," she said. "It's to remind you of your roots and where your town came from."
Aikens said the city does not have a timeline for when this project will be completed.
He said the city still needs about $1.3 million dollars to finish the renovations, and they are accepting private donations at City Hall.